Fabian Ebenwalder, also known as Thermatical, is a talented 23-year-old drum and bass DJ and promoter from Salzburg, Austria. His journey into the world of drum and bass began at the age of 12 when he first heard "Noisia & The Upbeats: Dustup," and he has been captivated by the genre ever since.
As he delved deeper into the drum and bass scene, Thermatical found his niche in the harder and darker side of the music, where he truly feels at home. With a burning passion for the genre, he aspired to not only be a DJ and producer but also to organize his own events.
In 2018, Thermatical turned his aspirations into reality by forming his own drum and bass crew called "The Sixth Circle." Since then, he has taken on the role of head and promoter for the crew, leading them to exciting opportunities and memorable performances.
Fate brought Thermatical together with the like-minded individuals of the Dark Matter Crew, and an instant bond was formed. Their mutual passion for dark drum and bass solidified their connection, leading Thermatical to join the Dark Matter Events Crew in 2023. This exciting collaboration has opened up new avenues for him to explore and expand his artistic horizons, allowing him to fully immerse himself in the exhilarating world of the genre.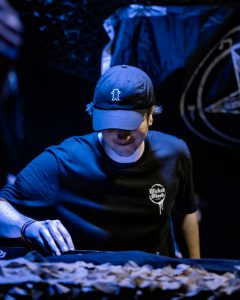 Thermatical's talent has allowed him to share the stage with a variety of well-known artists from across the globe. Collaborating with names like Sinister Souls, YMB, Jade, L33, Mindscape, Magnetude, DC Breaks, Mizo, Cockroach, Prdk, Annix, Kanine, Basstripper, Hated, Shaymi, Profuze, Tobax, Confusion, Gorebug, Shenkster, Merikan, Tr Tactics, Zombie Cats, and A-Cray has been an incredible honor for him.
For booking requests please visit this link
Check out his #Ritualcast here
Instagram: https://www.instagram.com/thermaticaldnb
Soundcloud: https://soundcloud.com/user-691843082